When we met PlanetTogether, they had already been in business for ten years. They contacted us looking for a simple upgrade to their website. Like good marketers, we went into a research phase to fully understand what challenges our potential client faced.
What we discovered was this: it was going to take more than a new web template to turn their online business around. Though PT is a great company with a great product, they were appealing only to users who were already familiar with their company. They did little to educate the average buyer. We knew that we could design a website for them that would increase not only their reach but their conversion rates.

A Modern Website Plan
PlanetTogether is an advanced planning and scheduling (APS) software company; their product cross-references reports and predictions to optimize manufacturing schedules. The problem that they faced is that APS is a very particular term. They needed to reach people who were searching for ERP or MRP software in order to convince them that their software was a better fit.
We began by creating a website design that was engaging. We drastically increased the number of CTAs and visuals on the site while reducing up-front information. A database survey revealed that many of the site's users wished that there was more video to explain just how PlanetTogether differs from other planning software on the market. We made sure to include a number of videos on the home page as well as incorporate them throughout the site.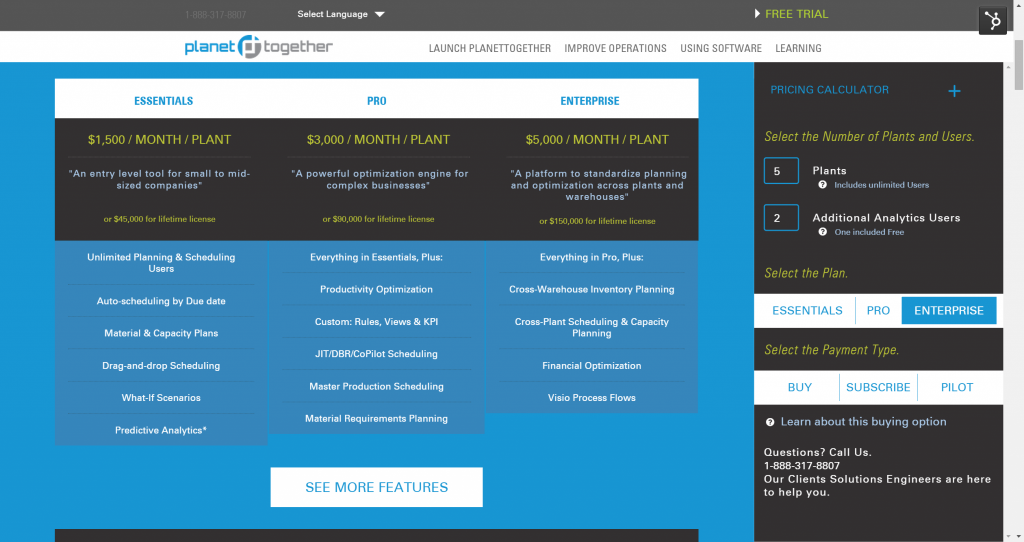 Perhaps the most important thing about this website design is that it aligned PlanetTogether's sales and marketing strategy. A great example of this strategy is the creation of a fully interactive online pricing calculator. This has helped the PlanetTogether team to better qualify leads that come in as well as communicate their service offerings. In addition, we created separate pages tailored to specific buyer personas. We then created persona-oriented utility navigation that linked to those pages. So, from the home page, each buyer is directed onto a journey that is designed to suit their exact needs.
We went a step further to include easy access from the homepage to a Learning Center page. Here, a user can find downloadable documents, walkthroughs, case studies, and video demos. We consolidated all the information that a potential customer could need into an organized, digestible format.
Increasing Education Opportunities with Blog Design
There are going to be times when the ideal customer simply doesn't know where to begin looking for you. You need to encourage them to find you; you need to increase your keyword versatility. By implementing a blogging program for PlanetTogether, we knew that we could increase their keyword scope AND establish them as thought leaders in their industry.
Though the blogs have their own page, we made sure to include them on the persona pages and the Learning Center page. We also optimized the blog page format so that readers can see recent posts or search according to topic. We also included a subscribe bar at the top of the blog page.
PlanetTogether has realized great success with their blogging; they're particularly popular on LinkedIn. Overall, the new design has increased business for PT. The quality of their leads has improved, and their new site brings in stable revenue streams.
Wondering how you can optimize your website for online business? Check out our blog, Website Design & Your Conversion Rates.